May

28
Tags
Related Posts
Share This
The Western Lariat: The Evolution of Pro Wrestling in Japan
Professional Wrestling (known as "pro-wres" and written as "puroresu" in English, with the o and u silent as they are in many translated Japanese names and words) in Japan is a completely different entity to the version of wrestling that exists in the United States or anywhere else. A lot of that has had to do with the way that the various styles have evolved and lead to a lot of confusion, particularly over the way MMA is treated. Many Americans are completely bewildered by the way Japanese people seem to consider MMA and pro wrestling as one and the same, but really, when you know the history, it's not all that silly. It's just the way the culture evolved. A lot of people are also in awe of the style that was on display in All Japan in the 1990s and to some extent in NOAH to this day. That, too, evolved in a very unique way…
In the 1950s and 60s the main company in Japan was Rikidozan's Japan Pro Wrestling. In the post World War II-era, professional wrestling became wildly popular by being used as a form of retribution for the Japanese public. Rikidozan defeated many of America's biggest stars such as Freddie Blassie, Lou Thesz, The Sheik and in the process became a cultural icon the likes of which has never been or will ever be seen in the United States. Everyone, even today, in Japan knows who Rikidozan was. Children learn about him in school through history books, he was that big of a star. He was the country's hero and someone who they lived vicariously through, defeating the evil American enemy and sending them packing. In terms of the in-ring style, the company was very similar to the one that was seen in the United States at the time, due to that still being the main influence on what people thought puroresu was.
Riki was murdered in 1963 and in the wake of his death Antonio Inoki and Giant Baba emerged as the two biggest native stars in the country. The company was plagued by in-fighting and following a failed coup by Inoki, he was fired by the group in 1972 and went on to form New Japan Pro Wrestling. A few months later, seeing the writing on the wall, Giant Baba followed and formed All Japan Pro Wrestling, taking the JWA's NWA affiliation with him due to his connections in the US. The company would fold shortly thereafter.
This was the first great change in the stylistic history of wrestling in Japan. Inoki would promote realistic fights, with lots of strikes and matwork. His vision was to promote pro wrestling not as entertainment or spectacle, but as the strongest fighting style and with NJPW being the leader of that style, the self-proclaimed "King of Sports". Inoki, of course, was the charismatic Ace of the new "Strong-Style" and took on many practitioners of other sports such as Judo or Boxing, beating all-comers in matches billed as "Different Style Fights". Baba, conversely, would hold true to his roots and continued to promote a highly American influenced product with the main hook being Baba (and later his young prodigy Jumbo Tsuruta) battling the top gaijin – or foreigners – of the era such as Harley Race, The Funks, The Destroyer and many others. Both companies flourished and became television staples around the country, turning Inoki and Baba into cultural icons in the process.
Inoki and Mohammed Ali in their disastrous "Different Style Fight" from 1976
In the 1980s, two great transitions took place. In 1983 Riki Choshu sensationally turned heel and formed the radical "Ishin-gun" faction. The rebellious Choshu represented the increasingly disillusioned Japanese youth, flouting long established conventions and fighting the powers-that-be. Wrestling a much quicker style with less restholds and more action, he jumped to All Japan in 1984 and dramatically changed a main event style which was often criticised by the public for being too slow and dated. Jumbo Tsuruta and Genichiro Tenryu would build on this, adding to it while still retaining the awesome psychology of the wrestling showcased in the company in the 1970s. In their seminal series towards the end of the 1980s, they featured an extremely quick pace, hard hitting moves as well as great psychology and drama with long, complicated finishing sequences. This would eventually become King's Road as Mitsuharu Misawa, Toshiaki Kawada, Kenta Kobashi and Akira Taue pushed the boundaries even further in the 1990s, producing arguably the greatest wrestling matches in the greatest wrestling style ever seen.
Jumbo Tsuruta during a bloody brawl with Harley Race
While New Japan's style was also heavily influenced by Choshu and still is to this day, another group of men would have an even bigger one. Disgusted by the, as they saw it, unrealistic style that Choshu had helped to introduce, Akira Maeda, Yoshiaki Fujiwara, Nobuhiko Takada, Satoru Sayama (Tiger Mask), Kazuo Yamazki and others quit the company and formed the original UWF (Universal Wrestling Federation). They felt that NJ had lost its real direction and was no longer promoting a realistic enough style befitting of the King of Sports. Promoting themselves as being legitimate tough guys, they eliminated Irish Whips and other superfluous aspects of the "fake" pro wrestling and instead focused on wickedly hard strikes and hyper-realistic matwork. The company was a roaring success at first, but infighting largely based on the creative direction of the group (Maeda felt that the matches should be based around submissions while Sayama wanted strikes) cause the group to collapse in the aftermath of an ugly in-ring incident that saw Maeda kick Sayama – for real – in the groin.
Sayama would leave wrestling while Maeda & co would return to New Japan for a historic promotion vs promotion battle and a round of record business as the Japanese public flocked to see who the real tough guys were. As it unsurprisingly turned out, New Japan's men were strongest and many diehard UWF fans were left disillusioned. Maeda was fired by New Japan in 1986 for breaking Riki Choshu's orbital bone in another cowardly in-ring attack as Maeda decided to show Riki what real fighting was. Maeda would reform the UWF, which later split once again into UWFi lead by Takada, Fujiwara-gumi by Fujiwara and RINGS by Maeda himself.
The UWFi was the last great hurrah of shoot-style as Nobuhiko Takada, endorsed by the legendary Lou Thesz, once again proclaimed that the UWFi was real and that New Japan was phony pro wrestling. Once again he had a loyal following of diehard fans who really believed that Takada was the strongest fighter in the world. Meanwhile, NJ was doing extremely well on the back of the rise of their immensely talented new generation which included the spectacular Keiji Muto/The Great Muta, the charistmatic Masahiro Chono and the new standard bearer of Strong-Style, "Destructive King" Shin'ya Hashimoto, who had also made a reputation for himself by beating fighters from other disciplines. Elsewhere, upstart promotion Pancrase had begun promoting shoot-style without the predetermined finishes and the Gracies, using their Brazilian Jiu Jitsu style, lead by Rickson were also gaining significant attention in the country.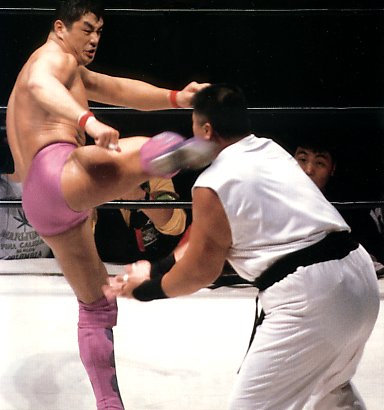 Nobuhiko Takada ensures that Kijo Kitao will respect pro wrestling from now on
In 1994, attempting a publicity stunt, Takada sent a young UWFi wrestler by the name of Yoji Anjo to the Gracie Dojo in California. Anjo came in unannounced and started kicking up a fuss, demanding that Rickson fight him. Takada had figured that Gracie would not want to fight with no notice and he could tell the media in Japan that Gracie had been basically punked out by one of his guys. It backfired spectacularly, however, as someone at the dojo rang Rickson at home and, taping his fists in the car on the way, he arrived at the Dojo and proceeded to beat Anjo soundly. Word quickly spread to Japan and the general public felt that Takada was honour bound to avenge his fallen friend. They expected a challenge to a match to quickly follow. Takada, however, knew that if he was to fight Rickson he wouldn't stand a chance and it would be the end of his career as well as massive dent in his legacy. Once the people realised that the fight was not going to happen, they quickly figured out what the deal was and UWFi began to severely decline. Desperate, they once again called up New Japan and made a deal.
Takada entered the company in October 1995 and went on to beat Keiji Muto for the IWGP Title on 1/4/96 in front of a sold-out Tokyo Dome. Strong-Style, however, would yet again prevail as the inter-promotional feud came to a close as Shin'ya Hashimoto won the title back from the despicable invader in front of a rabid 65,000 fans on 4/29/96. Eric Bischoff was in attendance and decided that the whole evil-invaders from a rival promotion deal just might work. In 1997 Takada, needing money as his company continued to flounder, sacrificed his legacy even further on PRIDE I by finally accepting a fight with Gracie. While Takada's reputation as a fighter died that day, off his back launched what was essentially the rise to prominence of a new evolution of pro wrestling. The Gracies, Wanderlei Silva and other gaijin would dominate MMA over the next few years, until Kazushi Sakuraba valiantly managed to defeated Royler Gracie in November 1999. He would go on to defeat many of the other Gracies along with a number of other top foreigners. Sakuraba, who had wrestled for UWFi, represented pro-wrestling in his fights and when he became the country's new hero, the industry had, in a sense, come full circle.
All Japan, meanwhile, also entered into heavy decline in the late 90s as the style took its toll on the top wrestlers and Giant Baba passed away in 1999. Mitsuharu Misawa took almost the whole roster with him in 2000 to form Pro Wrestling NOAH. However, NOAH has continued to draw respectably as the style was never based on their wrestlers being great fighters, but rather about stories of personal struggle and courage.
PRIDE gained massive momentum at the turn of the century and Inoki, seeing what was happening, attempted to ensure that New Japan would retain its place at the top of the industry. In order to do this, he decided to put many of his top wrestlers into actual shoot-fights against some of the biggest names in the fighting world, figuring that if his guys could beat the likes of Fedor, Cro Cop and co. then he could prove once and for all that New Japan was still the King of Sports. His idea backfired spectacularly however, as the likes of Yuji Nagata had their careers irrevocably tarnished by humiliating defeats and NJ entered into the biggest decline in its history as its identity was robbed. If Strong-Style was no longer the best style, then what is the point of New Japan? It's a question that the company has still not properly answered, even if it has shown a recent upswing in fortunes.
While wrestling in America, Mexico and practically everywhere else has largely gone uninfluenced by outside forces or undergone comparatively few radical changes, Japan splintered off into a number of different directions. Besides the styles discussed here, concepts such as garbage wrestling, the junior heavyweight style and others were either originated or heavily embellished and exported by Japanese companies. It's a completely different, fascinating atmosphere that is well worth studying if you're looking for something new in your pro wrestling fandom.
With credit to Dave Meltzer of the Wrestling Observer Newsletter for his wonderful History of PRIDE article last year and to "Dynamic A" Adam Randis for his equally lovely post about the evolution of the styles of NJPW & AJPW, that you can find in the International section of our forums, as well as on the puroresufan.com forums.